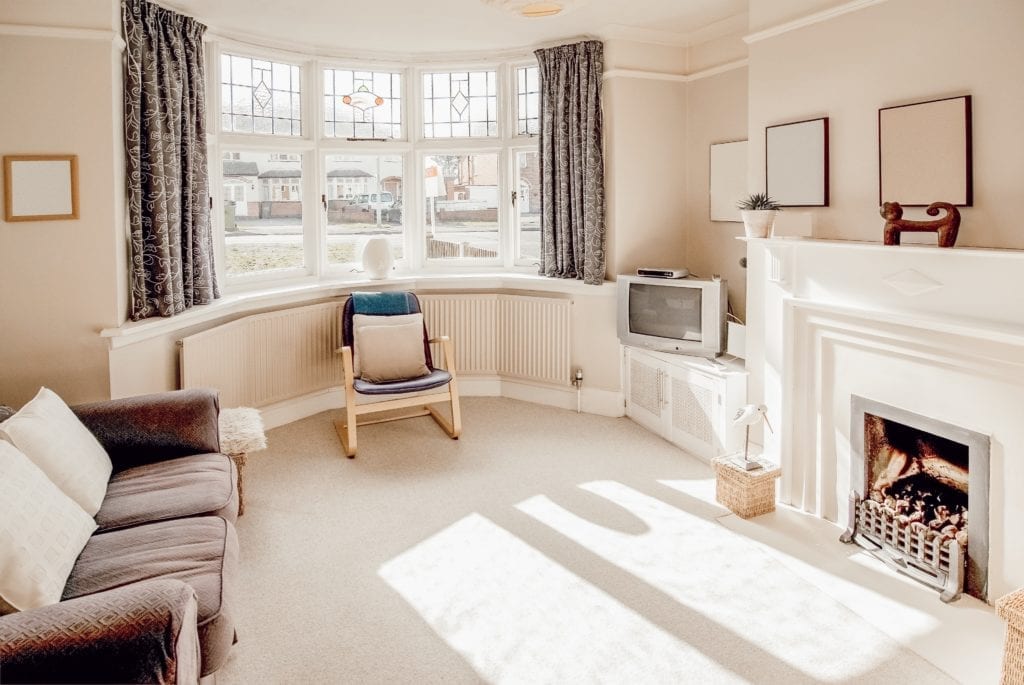 Home improvement projects can quickly become expensive, especially if you try doing everything at once. This also tends to make them stressful, disruptive, and drawn-out.
We recently covered Easy 1 Day Kitchen and Bathroom Improvement Projects, as well as 15 Easy 1 Day Home Improvement Projects. These focused on quick (and budget-friendly) ideas that go a long way toward making a significant impact!
Today, we'll take a look at bigger home improvement projects.
$10,000 isn't the smallest of budgets, but it's also nowhere near the $21,200 upper-range for a complete kitchen remodel. It is, however, generous enough to make a lasting impact and add value to your home.
1. Kitchen Makeover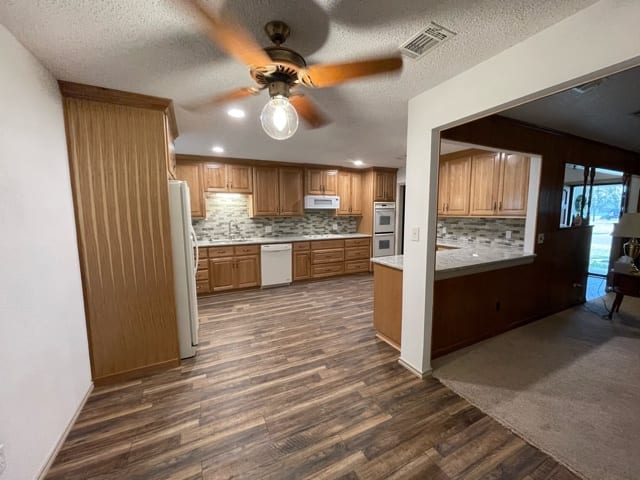 If you already worked your way through all five of the Easy 1 Day Kitchen Improvement Projects, then your kitchen is probably already looking fresh and modern. But you might be feeling like something is still missing.
Chances are, your kitchen appliances need an upgrade!
One of our favorites is installing a drawer dishwasher. In fact, it's one of our 4 Tips to Consider Before You Remodel Your Old Kitchen.
Depending on the quality, finish, and installation job complexity, you could be looking at anything from around $1,300 to $9,000 (excluding things like sales tax and delivery fees, where applicable).
This means you could potentially include multiple smaller projects, depending on your budget and time.
2. Bathroom Makeover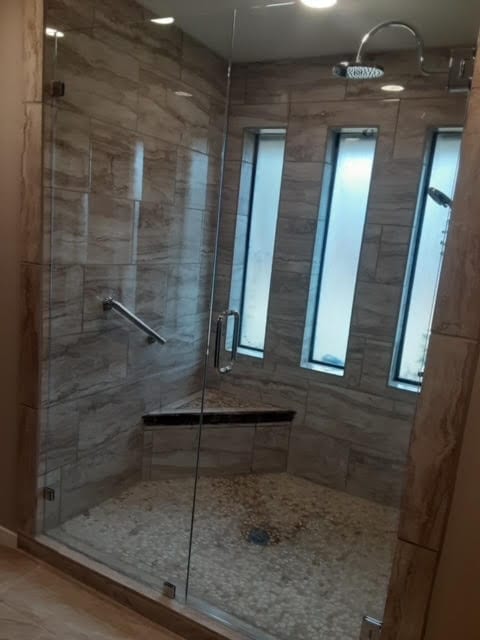 Things like a new paint job, backsplash, decorative mirrors, brass fixtures, and new faucets and/or showerheads are Easy 1 Day Bathroom Improvement Projects. Similar to their kitchen equivalents, however, they'll only take you so far.
Often, it's the bigger, more expensive changes that make the most impact. Sometimes, they can even be the difference between needing to do a complete bathroom remodel in five years vs. ten years.
You could simply replace your bathroom countertop (and possibly more extensive floor and wall space) with quartz, one of our favorite bathroom upgrades. Expect this to generally cost anywhere from $55 to $80 per square foot on average.
Alternatively, a major change like switching a built-in bathtub for a freestanding one can still be done for under $10,000 – but you're more likely to start testing that limit if you're not careful.
3. New Flooring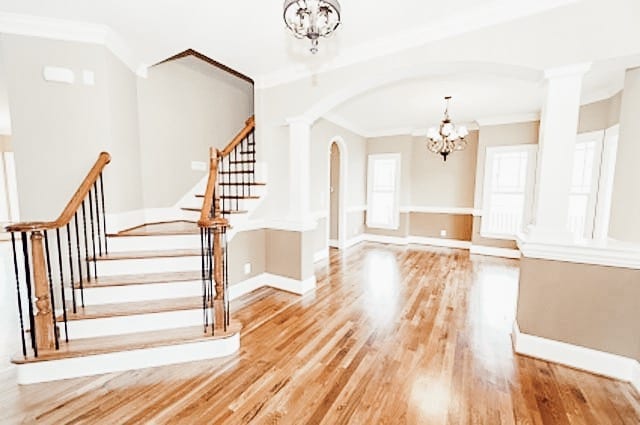 One of the less obvious themes running through our 21 Pictures for Kitchen Remodel Inspiration post was how new flooring makes a massive impact on updating the space. The same is true for any area in your home – not just the kitchen!
Hardwood flooring is one of the prevalent trends re-emerging for 2021.
This is in no small part due to its natural beauty and ease of cleaning, while generally being cheaper than putting quartz or marble tiles throughout your home.
Nevertheless, depending on the size of your home, hardwood flooring can still cost an average of about $9,700 in Central Texas. And that's without sales tax and contractor fees.
But you're looking at considerably less if you're focusing on one or two areas within your home. Just make sure it doesn't create a clash when passing from one room to another!
4. Open Floor Spacing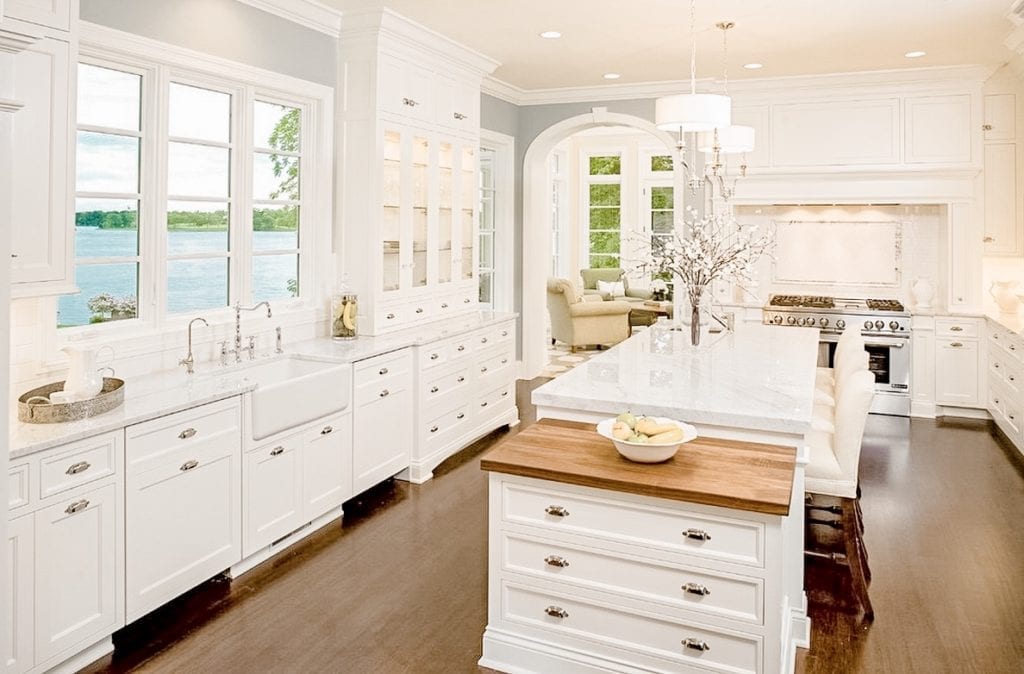 Speaking of passing from one room to another, open floor spacing is another great home improvement project that can be done for less than $10,000!
Older homes – especially those built in the '70s and '80s – tend to have very segregated rooms. Opening things up creates more flow through your home while allowing for a more entertaining area indoors.
For non-load-bearing walls, you're looking at between $500 and $2,000.
This gives you plenty of room in your budget for also replacing the flooring. However, bear in mind that rerouting utilities and/or removing a wall in a two-story home can drive the price up to $4,000+.
Load-bearing walls are obviously more expensive, as you also need to hire a structural engineer and include new support structures, such as a support beam or pillar.
At the lower end, you're looking at $2,000 to $5,000, which quickly starts pushing the $10,000 limit when it comes to rerouting utilities in a single-story home.
5. Add a Patio Deck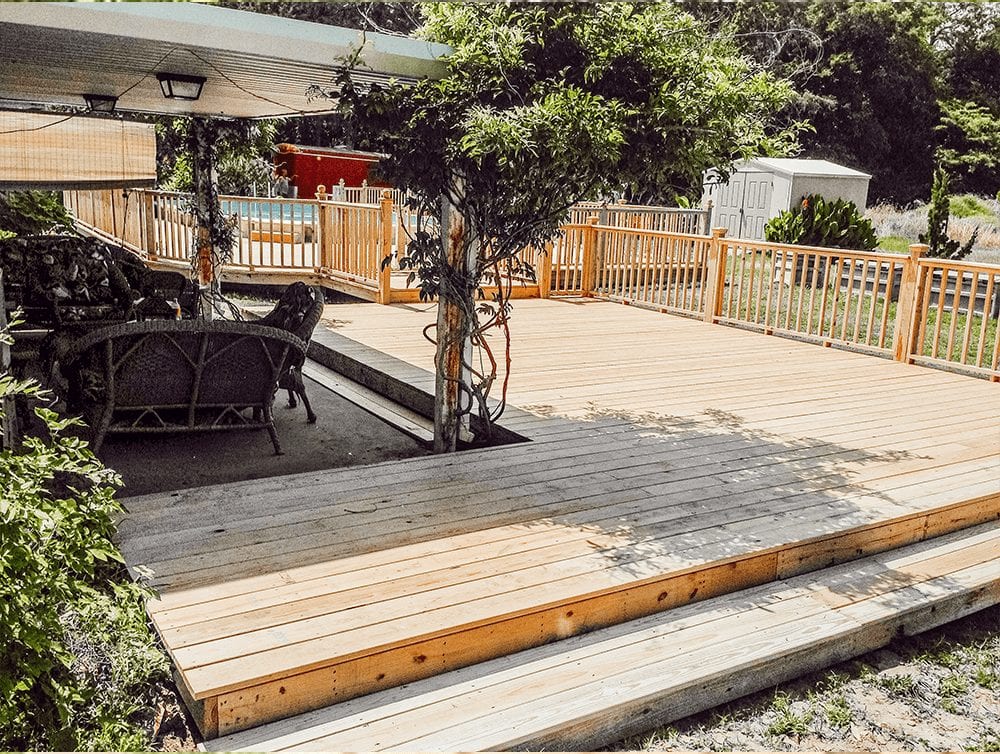 Expanding your living space with a patio deck is one of our favorite home improvement projects. Custom wooden decks are one of our specialties, as Central Texas has the best weather conditions for enjoying them!
Considering starter decks are roughly 12×12, you're looking at an average of $1,700 to $2,300 for a new deck. Assuming you want to add a little more space, a 12×14 deck can cost up to $2,600, while party decks of 12×16 tend to run closer to $3,000.
Easy access to the construction site, deck materials, custom designs, etc., will affect the price. So be sure to get a proper estimate and add an extra 30% to your projected costs.
This gives you more breathing room in your budget to cover unexpected additional costs.
Don't forget to check our 15 Easy 1 Day Home Improvement Projects – many of them will help you furnish your deck with upcycling DIY projects that won't add a lot of extra expenses! And, of course, our Deck Maintenance Tips will help keep your new deck in its best condition for longer.
Conclusion
Which of these five best home improvement projects for under $10,000 are you most excited about?
While smaller one-day projects lend themselves more readily to DIY, these larger ones are almost always best left to the professionals.
Don't be afraid to reach out and see what H&H Construction & Restoration can do for you!
Contact us today and get started!