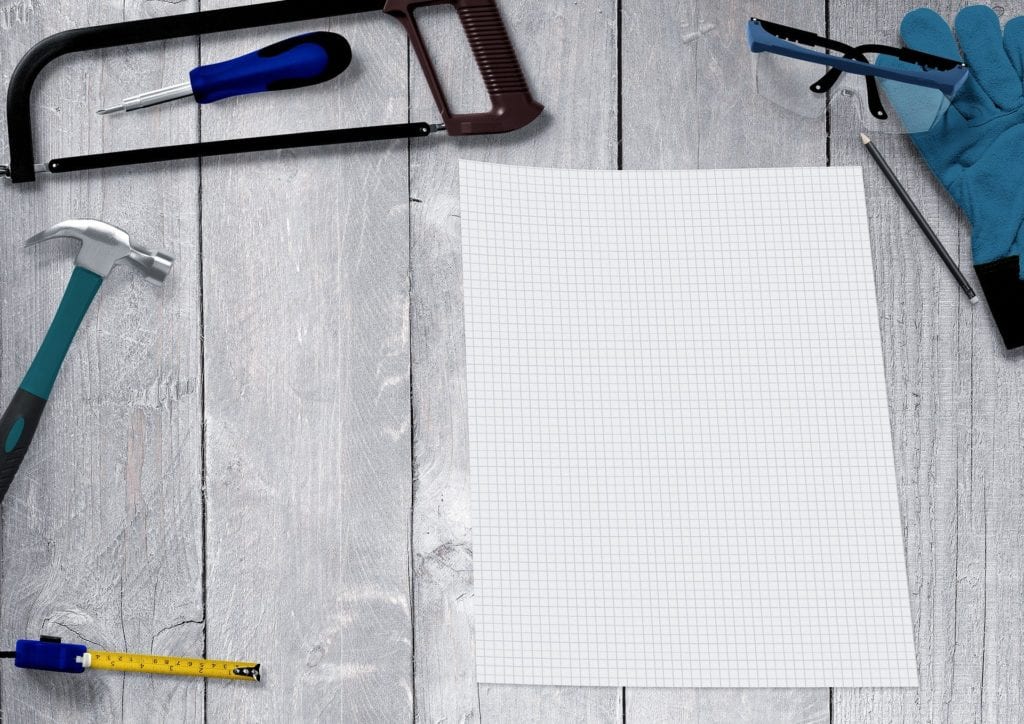 Have you been looking at your kitchen and thinking it's time for a remodel, but don't know where to start?
At H&H Construction and Restoration, we aren't only here to help you with the physical aspect of a kitchen remodel. We're always willing to assist with every step of the way, from providing the 4 Tips to Consider Before You Remodel Your Old Kitchen to creating The Ultimate Kitchen Remodel Guide.
Today, we're helping you find inspiration to get the creative juices flowing.
1. Leaving the "All-White Kitchen" Behind
If you're looking to keep up with the latest trends, the "all-white kitchen" is a thing of the past. Mostly.
Obviously, no trend will disappear entirely. All-white kitchens provide a visual aesthetic many still find incredibly appealing. If you're happy with your all-white kitchen, keep it!
But others are moving back toward two-tone kitchens, such as this one:
Photo by Melanie Beynon Architecture & Design – Look for kitchen design inspiration
If you're looking for a more subdued way to break-away from the all-white trend, then simply change your flooring. Take out the white (or off-white) tiles and replace them with something like hardwood floors:
Photo by Helen Baumann Design – More kitchen photos
Alternatively, if you're feeling a little bolder or already have hardwood floors, you could make one of your kitchen walls an accent wall. In the example below, the lower and upper cabinets are a darker wood in muted gray:
Photo by McDonald Jones Homes – Search kitchen design ideas
2. European-Style Cabinets vs. Open Shelving
A great way to give your kitchen a simple, but often necessary renovation is to change your cabinets. In terms of style, two options are particularly in-style for the 2020s: European-style cabinets and open shelving.
European-style cabinets are still an emerging trend in America. Here, cabinets are a fairly uniform size and typically don't include visible handles. You usually open them with a push-release magnet or with handholds cut into the cabinet doors:
Photo by Mcmahon and Nerlich – Search kitchen pictures
Open shelving is by no means a new trend anywhere in the world. Depending on the material you use, they can give your kitchen remodel a rustic feel or a sleek, modern one.
Open shelving isn't for everyone, of course, but when used selectively, it can allow you to open up your kitchen and make your most oft-used items more easily accessible:
Photo by Alexandra Kidd Design – Browse kitchen photos
Not sure which one you'd prefer? Why not do what this homeowner did by combining European-style cabinets and open shelving to make their guest house kitchen more open and inviting!
Photo by Carrera By Design – More kitchen photos
3. Quartz
Quartz is earning its place as one of the most popular materials to use in the kitchen. While marble will always have a special place in our hearts, quartz handles heat and heavy-usage better.
This homeowner went all-out by putting in some black-and-white quartz flooring:
Photo by Caroline Touzeau Design – Discover kitchen design inspiration
While this homeowner took the more traditional route by using quartz countertop and island top:
Photo by John Contoleon Architecture – More kitchen ideas
As yet another option, you could even use quartz resurfacing to remodel your entire kitchen island and add some wooden countertops to increase your working/eating surface:
Photo by Navan Bespoke – Discover kitchen design inspiration
4. Two Islands?
If you find yourself wishing you had more working surfaces in your kitchen and/or want to separate your preparation surface from your dining setting, then consider having a second island put in. You'll need the space for it, of course, but the results are simply gorgeous.
Take a look at this Scandinavian galley eat-in kitchen design, for example:
Photo by Rylock Australia – Browse kitchen photos
Alternatively, take inspiration from this design, where the single island has been split in two by varying the heights:
Photo by Kitchen Capital WA – Browse kitchen ideas
A third option is to have the two islands at perpendicular angles, creating a kitchen counter divide as well as a multi-functional island:
Photo by Monica Ford Interiors – Browse kitchen ideas
5. A Touch of Timeless Vintage Taste
Vintage is a trend likely to never disappear – and we hope it doesn't!
However, you don't need to go all-out. Adding just a touch of the vintage aesthetic to your kitchen remodel design can create striking results. Consider this ultra-vintage dark wood flooring contrasting the otherwise modern style:
Photo by OUTSIDEINSIDE Building Elements – Browse kitchen photos
Or simply use detailing on the cabinetry and lighting, as well as a vintage-looking accent piece:
Photo by Intrim Group Pty Ltd – Look for kitchen pictures
You could even replace "vintage" with "retro," like this homeowner did when renovating their island shape:
Photo by Hobbs Jamieson Architecture – More kitchen ideas
But if you do want to go a little stronger on the vintage side without looking like you're trying to recreate your great-grandmother's kitchen, a more subtle blend of the old and new works particularly well:
Photo by Cumulus Studio – More kitchen photos
6. Going Off-Trend
One thing many design experts are saying about the 2020s is the main trend is… well, not following a trend.
This has the advantage of leaving plenty of room for individuality. You could give your home kitchen a tasteful bar aesthetic, for example:
Photo by Henry and Co Interiors – More kitchen ideas
Or even incorporate a slightly rustic, almost laundry-room-like feel:
Photo by Provincial Kitchens – Search kitchen design ideas
You could use patterned wallpaper to create a striking backsplash:
Photo by Real Property Photography Logan – Search kitchen pictures
Include splashes of color as an accent wall (blues and greens are particularly in-favor):
Photo by Wood Marble & White – Discover kitchen design ideas
Or let your imagination run wild with interesting shapes:
Photo by David McGowan Photography – Search kitchen pictures
At the end of the day, it's your kitchen – remodel it the way you want it!
Contact us today and get started!