The North Texas home remodeling crew was at it again with a complete bathroom makeover. While some of our home remodeling customers need only a few things done to update their homes like flooring, windows, decks, or cabinets, others want a complete overhaul for specific rooms or even their entire house. No matter how labor intensive the project may be, our crew can handle it. Having the necessary skills, tools, materials, and a reliable work force allows us to complete our North Texas home improvement projects on time and sometimes ahead of schedule.
Bathroom Remodeling Options and Preferences
This homeowner was ready for more than just a few updates and upgrades. Their bathroom was clean, but outdated and showed years of use and ready to be renewed.
After calling upon H&H Construction and Restoration for a bathroom remodeling quote, we walked through each step of the process to determine exactly what they wanted for their new bathroom. Our team helped this homeowner bring the dream bathroom they had been imagining to life. From type and patter of tile to size and style of vanity to fixture design and material, we helped them narrow down every detail to make sure that not one option or preference was left unimagined.
Fortenberry Bathroom Remodeling Project
To give this bathroom its new and fully updated look, it required more than a few cosmetic changes. We practically gutted the entire room and started fresh.
When homeowners want to refresh an entire room, especially a bathroom, it is often easier to break it down to its bare bones and work from the subfloor up. In this bathroom remodel project, that is what worked best to meet all the needs and preferences for this customer.
Bathtub & Shower
The new tile the homeowner chose consisted of large 12 x 12 ceramic tiles for the flooring and surrounding the bathtub and shower along with a mosaic feature to add a touch of character. The large flooring tiles also featured a deep dark brown grout that matched well with the brown and tan base of the tiles.
Bathroom Vanity Upgrade
To accentuate the new flooring and design features of the bathroom, the homeowners were also ready for a new bathroom vanity. We installed a new granite counter for the double sink vanity that matched the brown tones of the tiles and fixtures all too well.
Updated Bathroom Fixtures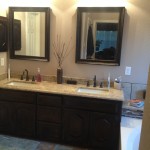 Along with the modern updates of the entire bathroom, the customer wanted updated bathroom fixtures to match the renewed bathroom. They chose the popular bronze finish. They applied this throughout the entire room including the showerhead and handles, bathtub faucet, double sink faucets, and even the door handles for the main door and toilet room door.
Each piece of this Fortenberry bathroom remodeling project brought a new light to this homeowner's bath. The subtle options like the bronze finished fixtures and handles and the stand out features like the granite vanity and large tiles all played an important role in their brand-new bathroom.
With our strong crew of North Texas home improvement and home remodeling experts, H&H Construction and Restoration can help you transform your bathroom or any living space to bring your dream home to life.
Contact us today and get started!