Just 10 miles southwest of Greenville rests the quaint town of Caddo Mills, TX. While it is a small town with nearly 1,500 residents, Caddo Mills has its own municipal airport and a history dating back to the late 1850's with the Caddo Indians as it earliest inhabitants.
Today, this charming North Texas community in Hunts County is home to 350 families and 459 households. To maintain the quality and value of the city's homes, residents need reliable Caddo Mills home remodeling experts like H&H Construction and Restoration to update and remodel their property.
Recently, the team at H&H Construction and Restoration was called upon for their professional remodeling skills to renew a Caddo Mills bathroom with a complete remodel.
North Texas Home Remodeling in Caddo Mills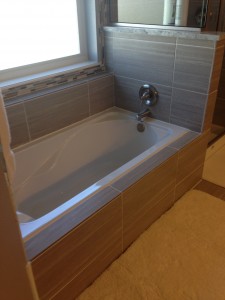 With all the new, modern options for updating older homes, it may be hard to know where to begin. Whether you plan to stay in your home for 10, 20, or more years or you are looking to relocate into a newer property, kitchens and bathrooms are the hot spots for homeowners and potential buyers. Most agents will tell you that the kitchen and bathrooms are the main rooms that sell a home. But even when homeowners plan to stay for many more years, they want these rooms to be clean and up to date too.
Specifically, this homeowner was ready for a bathroom renovation and facelift. As we do with all of our clients, we gathered all the details about their wants and needs for their new bathroom. While some clients come to us with all their flooring, fixtures, and finishes picked out, others need help deciding on colors, design, style, and other options. This homeowner knew they wanted to update the tiling, shower, bathtub, and other features.
Caddo Mills Bathroom Remodeling Project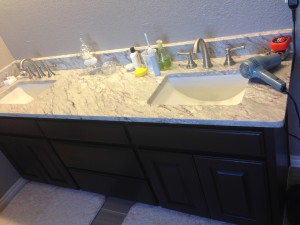 The structure of this home was in fine condition. The sub flooring, drywall, plumbing, and electrical didn't need much attention to renew this bathroom. Therefore, we were able to focus all of our time and effort into giving this homeowner exactly what they wanted for their new bathroom. They wanted a clean, modern style for their tub and shower. We retiled the stand-up shower by incorporating a mosaic tile border with the large slate tiles. The tiling surrounded the tub and extended throughout the bathroom floor.
Endless Bathroom Remodeling Options that Bring It All Together
Since the old wouldn't match the new, we installed a new granite counter sing that blended flawlessly with the new tile, yet was light enough in color to not offset the white tub and white shower floor. So there was no outdated or worn out piece left, we also installed a new semi-frameless clear glass on the shower as well.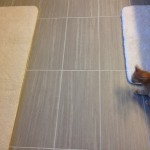 To tie it all together, the homeowner chose very sleek and stylish fixtures for the double sink faucets, showerhead, and tub faucet. As you'll notice in the photos, the slim white grout around the new tiles pop ever so slightly that brings a unique touch of class and elegance to the bathroom.
This Caddo Mills home remodeling project is one of our many proud remodeling capabilities. As this homeowner enjoys their brand-new bathroom, it may spark other remodeling ideas for their home and H&H Construction and Restoration will be ready to meet every specific remodel design and option they request.
If you'd like more information about our home remodeling in North Texas, contact us today at 903-456-5917. We'll be glad to help you bring your dream home to life.
Contact us today and get started!